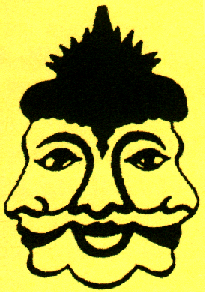 MOOT HOUSE PLAYERS
Forty-seventh season
MOOT HALL - THE STOW - HARLOW
SIX OF THE BEST
Three New Plays and Three Revivals
2000 - 2001
Some of the choices we made of extracts from plays for our last season's revue, "Moot Points", proved so popular with both audiences and actors that we have been emboldened to revive two of them - Everyman . and A Phoenix too Fequent . in the form of a rather unusual double bill.
It is six years since the Players last presented a Shakespeare play and twenty-four since they last performed "Twelfth Night", so there seems to be every justification for reviving once again the first Shakepeare play to be staged in Moot Hall back in 1957.
And now we welcome a premiere - The Railway Children . in Bett Hewlett's new adaption of the perennially popular novel by E. Nesbit
Finally, two plays being performed by the company for the first time - T S Eliot's 1939 play, The Family Reunion and, to bring the season to a cheerful close, Ten Times Table, written by this country's leading specialist in the middle-classes, Alan Ayckbourn.
---
THE SHOWS:
---
November 2-3-4, 2000 at 8.00 pm
The Family Reunion (1939)
by T.S.Eliot (1888 -1965)
Directed by Yvonne Mitchley
This was Eliot's first excursion into modern dress poetic drama - a quite positive decision to move away from "costume pieces" and an attempt to revive the use of verse form in the theatre. It was a piece whifch was before its time and opened the way for Pinter with its flashes of comedy and use of drawing-room setting which, none the less, produces underlying unease and menace. When youadd this to the spice of a possible murder you can see that this will be an evening that is differrent. It should make for a fascinating opening to the season.
---
January 25-26-27, 2001 at 7.30 pm
The Railway Children
by E Nesbit (1832-98)
adapted for the stage by Bett Hewlett
Directed by Bett Hewlett
This is the time of year when we offer as play taht will be "suitable for children of all ages" and once again we think we've found a winner. It needs no introduction to English-speaking audiences; our one concern is how to bring steam trains into Moot Hall - Come and see!
---
March 15, 16, 17, 2001 at 8.00 pm
Twelfth Night (1601)
by William Shakespeare
Directed by Jack Mitchley
Perhaps the greatest romantic comedy of all time. We hope we can cast it at our highest level for our third attempt to bring this masterpiece to the stage. No matter .... we are sure that this piece will buoy up the actors. After far too long a gap it's time for Shakespeare again.
---
May 3 - 4 - 5, 2000 at 8.00 pm a double bill -

EVERYMAN (C.1495)

Directed by Jack Mitchley

Kept in repertory since our sucessful tour of local churches in 2000. We have had continued interest in the production and have decided to re-launch it with a run in Moot Hall prior to its appearance at the Maddermarket Theatre, Norwich. It will be exactly 100 years since William Poel's revival in 1901. We recommend this morality play unreservedly.

A PHŒNIX TOO FREQUENT (1946)
By Christopher Fry (b. 1907)

Directed By Tony Edwards

The first of Christopher Fry's plays to be seen in London, this is a delicious comedy, "grey" as distinct from "black" - and illustrates the power of human love over death while finding a new use for the corpse.

BOTH THESE PLAYS featured in Moot points and the Phoenix was given in Moot Hall in 1956. Fry is another dramatist who brought poetry back to the 20th Century theatre and, happily, is still alive.
---
July 12 - 13 - 14. 2000 at 8:00 pm

Ten Times Table (1976)
by Alan Ayckbourn (b 1939)

We end the season with a really hilarious examination of the committee syndrome by a writer who became embroiled in committees during his transfer from one building to another in Scarborough in 1976. There is unsurprisingly an element of autobiography evident in his depiction of the posturings and hysteria of the various committee members engaged in organising celebrations for a folk dance festival. Ayckbourn described the piece as a 'sedentary farce' and the play demonstrates once again his gift of seeing ourselves as others see us.


Directed (very appropriately, since he runs a folk club) by Jon McNamara
---
DETAILS OF ALL OUR MAJOR PRODUCTIONS ARE CIRCULATED TO ALL THOSE WHO ARE ON OUR MAILING LIST
If you wish to be included on our mailing list, please write to or phone:
Yvonne Mitchley 162 Orchard Croft, Harlow, Essex CM20 3BH Tel: O1279 425959
Seat prices are £5.00
Concessions for OAPs, the unwaged and those in full-time education: £ 4.00 .
We shall continue our Uncles and Aunts scheme for particular productions in which regular patrons are invited to introduce new young audiences free of charge to certain plays. Particulars may be obtained from :
Box Office Manager. Inger Collins 10 Burton's Mill Sawbridgeworth, Herts CM21 9PL Tel: O1279 726047
Moot House Players gratefully acknowledge the direct financial assistance they receive from their parent body MARK HALL & NETTESWELL COMMUNITY ASSOCIATION and for the storage facilities provided by HARLOW ARTS COUNCIL.
---